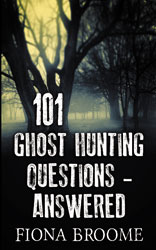 Do you want some real answers to ghost hunting questions? This book provides expert answers. (Contents now free at Ghosts101.com.)
About the Book
This book is out of print. Questions and answers from this book appear at Ghosts101.com.
Book description from the original Amazon listing
Do you want some real answers to ghost hunting questions?
Are you tired of  "expert" opinions that sound more like fiction than fact?
Have you doubts about ghosts, haunted places, and what you've seen on"ghost" TV shows?
In this book, ghost hunter Fiona Broome — with over 30 years' experience investigating haunted houses, hotels,cemeteries, and battlefields — answered the 101 of the Internet's most-asked ghost hunting questions, including:
What are ghosts?
How do I start ghost hunting?
How can I start (or join) a ghost hunting group?
What's the best place to go ghost hunting?
Why do most ghost hunters investigate at night?
What can you do to attract ghosts?
Why do some people become ghosts and others don't?
Can a person be followed from place to place by a ghost?
Are some people more receptive to ghosts than others?
What happens to people who actually see a ghost?
If you're new to ghost hunting, this is a great way to learn more about paranormal research, and find out which questions can be answered… and which are still mysteries.
This book is out of print. You can find these questions — and Fiona's answers — at Ghosts101.com.
New Forest Books is a participant in the Amazon Services LLC Associates Program, an affiliate advertising program designed to provide a means for sites to earn advertising fees by advertising and linking to Amazon.com and related sites. New Forest Books also participates in other bookstore-related affiliate programs. This means if you click on a link and purchase an item, we may receive an affiliate commission. We are disclosing this in accordance with the Federal Trade Commission's
16 CFR, Part 255
: "Guides Concerning the Use of Endorsements and Testimonials in Advertising."