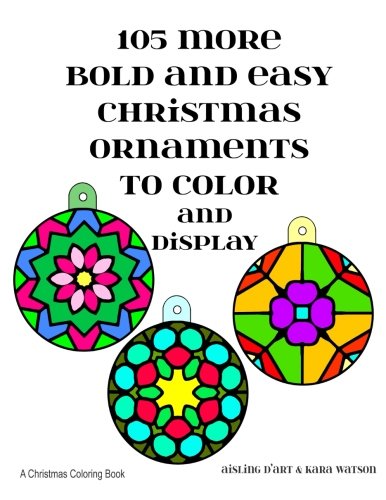 Take stress out of the holidays and put fun into them, with your own, hand-colored ornaments. 105 ornaments with bold lines and easy-to-see spaces.
About the Book
Take stress out of the holidays and put fun into them, with your own, hand-colored ornaments.
This black-and-white coloring book features the same bold lines and big, easy spaces of Kara & Aisling's "Bold and Easy" coloring books, and uses those designs in ornaments.
This is the second (of three) books featuring bold and easy ornaments to delight colorists from age 3 to 103.
Features:
Every page is printed on one side.
Every page features three similar ornaments, in different sizes.
35 different designs. 35 different, single-sided pages. 105 total ornaments.
Every ornament is round (circle shapes), and printed in black & white for easy coloring.
Extras: five pages of how-to ideas for making the most of these ornaments, and lots of bonus coloring pages for more fun.
Color ornaments with your family, as a project you'll remember — and ornaments you'll enjoy — for many years.Also ideal for classrooms, Scouts, and art therapy of all kinds.
These Christmas ornaments make it fun and easy to color a happier, stress-free holiday season. Order your copy today for lots of holiday fun and smiles!
[Note: These coloring pages also appear in Aisling & Kara's big, combined book, "210 Bold and Easy Christmas Ornaments to Color and Display."]
New Forest Books is a participant in the Amazon Services LLC Associates Program, an affiliate advertising program designed to provide a means for sites to earn advertising fees by advertising and linking to Amazon.com and related sites. New Forest Books also participates in other bookstore-related affiliate programs. This means if you click on a link and purchase an item, we may receive an affiliate commission. We are disclosing this in accordance with the Federal Trade Commission's
16 CFR, Part 255
: "Guides Concerning the Use of Endorsements and Testimonials in Advertising."