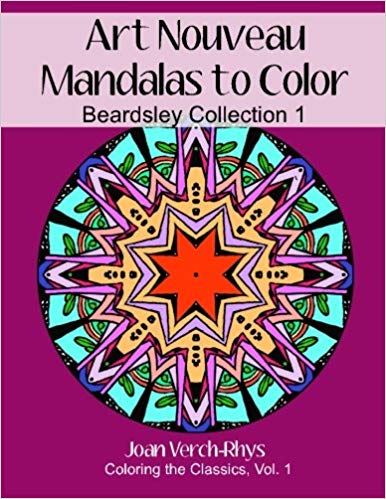 Escape to the mystical, artistic world of the 19th century! These aren't your typical mandalas.
About the Book
Escape to the mystical, artistic world of the 19th century!
These aren't your typical mandalas. In fact, some of them are downright odd.
Between the covers of this 8 1/2″ x 11″ book, you'll 51 mandalas to color… with a twist. All of these mandalas are based on Art Nouveau illustrations by Aubrey Beardsley, one of the leading creative influences of the 19th century.
No matter what level of detailing you like, or what style of mandalas you prefer, you'll probably find them among these 51 hand-crafted mandalas.
They vary from fine lines and narrow spaces to bold and simple designs.
Most of these mandalas are non-representational. None are from Beardsley's more lurid illustrations, but some of these geometric patterns still evoke a luxurious, sometimes sensuous feeling.
The artwork is printed on just one side of the paper.
Many of the mandalas are best colored with markers.
Others will shine with the subtle variations of colored pencil.(As with most coloring books, it's smart to place a sheet of paper underneath whatever you're coloring, to prevent bleed-through of ink or pressure marks from pencils.)

This is the first of several books featuring mandalas based on Aubrey Beardsley's illustrations. It's also the first in a series of books based on classical art from the 19th century and earlier.

If you're ready to escape to a quirky world, these mandalas are a fine place to start.
New Forest Books is a participant in the Amazon Services LLC Associates Program, an affiliate advertising program designed to provide a means for sites to earn advertising fees by advertising and linking to Amazon.com and related sites. New Forest Books also participates in other bookstore-related affiliate programs. This means if you click on a link and purchase an item, we may receive an affiliate commission. We are disclosing this in accordance with the Federal Trade Commission's
16 CFR, Part 255
: "Guides Concerning the Use of Endorsements and Testimonials in Advertising."