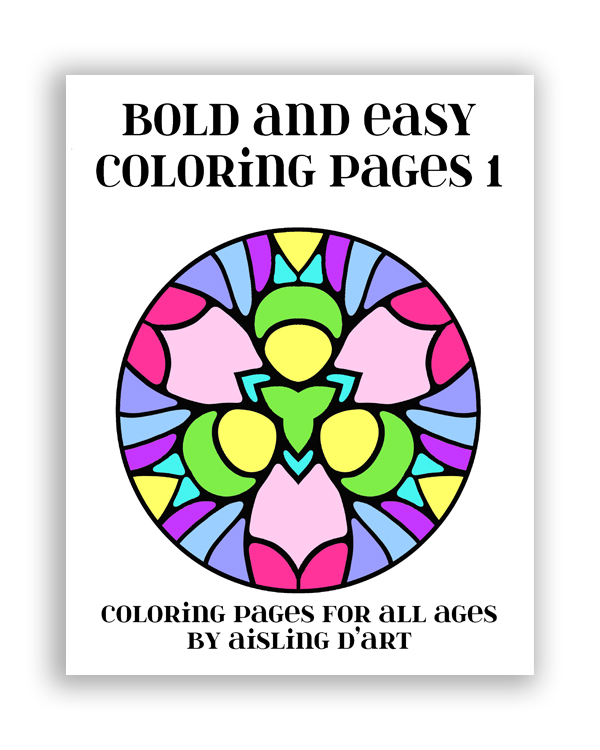 Looking for a coloring book with easy-to-see lines and broad areas to color? You've found it!
About the Book
This big, bold coloring book contains 50 relaxing coloring pages with bigger coloring spaces and wider, bolder lines. This makes coloring fun and easy.
This coloring book for adults is ideal if you want quick coloring projects… the kind you can color while talking on the phone, or listening to a talk, lecture, or webinar.
Also, this book is perfect for…
 People with vision issues. The darker, wider lines and bigger coloring areas are easier to see.
Anyone who has difficulty holding a marker or coloring pencils. Most of the coloring areas are larger than in other books. Also, wide design lines can hide slight coloring slips.
Those overcoming eye-hand coordination challenges. You can start with the coloring marker near the center of one of these big coloring areas, and experiment with marker movements. Your coloring can still look fine, even if the marker moves in an unexpected direction.
Of course, these big, bold, and easy designs are fine for children as young as two years old. (It's been field tested and toddler approved!)
What's Inside
This book contains 50 coloring pages — two of each hand-crafted design — printed on one side of the page. (The back of each page is blank. So, the book is 105 pages long.)
Designs include:
Simple, relaxing mandalas.
Easy kaleidoscope images.
Calming, repeating patterns.
Color It Again!
Each of the 25 unique coloring designs is repeated. So, it's okay if you make a mistake on one design. Just turn the page and get an instant "second chance!"
Or, you can use that second copy to try some different colors. Swap light colors for dark, or primary colors (red, yellow, blue) for something more exotic like Mardi Gras colors — purple, orange, and green.
No Cookie-Cutter Art
All of these coloring pages are based on the hand-drawn artwork of the author, artist Aisling D'Art. They weren't computer generated or mass-produced. They feature rounded corners and geometric designs reminiscent of artwork from the "Magical Mystery Tour" album, and other icons of the 1960s' hippie era. Let these coloring pages take you back to a happier, simpler, more relaxed time.
If you — or someone you know — will enjoy coloring pages with relaxing, abstract designs, bolder lines, and larger coloring areas, this book is for you!
Other Books in "Bold and Easy Coloring"
New Forest Books is a participant in the Amazon Services LLC Associates Program, an affiliate advertising program designed to provide a means for sites to earn advertising fees by advertising and linking to Amazon.com and related sites. New Forest Books also participates in other bookstore-related affiliate programs. This means if you click on a link and purchase an item, we may receive an affiliate commission. We are disclosing this in accordance with the Federal Trade Commission's
16 CFR, Part 255
: "Guides Concerning the Use of Endorsements and Testimonials in Advertising."