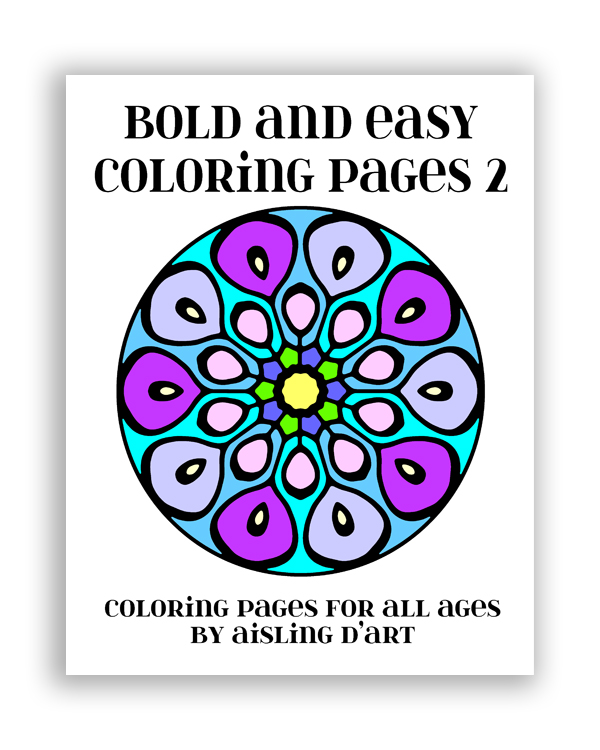 Looking for a coloring book with bold, easy-to-see lines and big coloring areas? This is the second book in the "Bold and Easy Coloring Pages" series for adults as well as children.
About the Book
This is the second book in the "Bold and Easy Coloring Pages" series. This big, bold coloring book contains 60 coloring pages designed with darker coloring lines and bigger coloring spaces. It's ideal for anyone who wants an easier coloring book.
This book is perfect for people with vision issues, or difficulty holding a coloring pencil or marker, too.
– The bold lines are easy to see, and — if the coloring isn't "inside the lines" — the wide black lines can cover minor slip-ups.
– The larger areas allow for broad movements with crayons, pencils, pens, or markers. And, if they're too large, a page of coloring tips (near the back of the book) explains ways to embellish open areas so they're more ornate.
So, books in the "Bold and Easy Coloring Pages" series are ideal for teachers of special needs students, as well as art therapists.
In addition, elderly patients will find both a sense of satisfaction, completing these easy-to-color designs. They'll also recall happy childhood memories of coloring in books, without feeling "treated like a child," since these are abstract and artistic designs.
Of course, this book is suited to children age two and older, as well.
There are 30 designs in this book — two pages of each design — featuring mandalas, kaleidoscope images, and repeating patterns. If you make a mistake on one page, it's easy to turn the page and get an instant "second chance." (It's also an opportunity to try different colors than the first one you colored.)
All of these coloring pages are based on the hand-drawn artwork of the author, artist Aisling D'Art.
They weren't computer generated or mass-produced. Many are in an authentic 1960s style and feature rounded corners and geometric designs reminiscent of the "Magical Mystery Tour" album artwork, and other icons of the hippie era.
If you — or someone you know — will enjoy coloring pages with bold lines and larger coloring areas, this book may be what you need.
Other Books in "Bold and Easy Coloring"
New Forest Books is a participant in the Amazon Services LLC Associates Program, an affiliate advertising program designed to provide a means for sites to earn advertising fees by advertising and linking to Amazon.com and related sites. New Forest Books also participates in other bookstore-related affiliate programs. This means if you click on a link and purchase an item, we may receive an affiliate commission. We are disclosing this in accordance with the Federal Trade Commission's
16 CFR, Part 255
: "Guides Concerning the Use of Endorsements and Testimonials in Advertising."