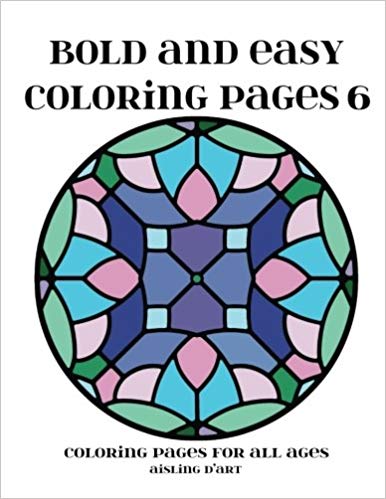 Find a sense of calm and stillness with these soothing, easy-to-color pages. Relax with bold lines and big spaces. This is your kind of coloring book!
About the Book
Find a sense of calm and stillness with these soothing, easy-to-color pages.
Relax with bold lines and big spaces.
Complete them quickly for a fast sense of accomplishment.
OR, linger over each design, choosing your colors and coloring materials carefully.
It's up to you!
Here's what you'll find inside this 125-page book:
60 coloring pages, each printed on one side of the page. (The back of each page is blank, so marker ink or pencil impressions won't affect the next design.)
30 original, coloring book pages hand-drawn by Aisling D'Art.
Two copies of each design, so you can try different colors the second time. (Or, have a "do-over" if you want one.)
Ideal for people coping with stress or anxiety. These designs are easy and relaxing to color!
Moms (and dads) rave about these coloring books because they can color at the end of a long day, in low-light settings. And, you won't need your reading glasses to see what you're coloring.
Popular with teachers and art therapists, as well as coloring enthusiasts coping with vision or dexterity issues.
If you're coloring to release stress, this may be the coloring book you need.
This is the sixth book in the original, best-selling "Bold and Easy Coloring Pages" series. Each page features original artwork, not clip art. Our authors are colorists, themselves, so they know what makes coloring book fun.
Other Books in "Bold and Easy Coloring"
New Forest Books is a participant in the Amazon Services LLC Associates Program, an affiliate advertising program designed to provide a means for sites to earn advertising fees by advertising and linking to Amazon.com and related sites. New Forest Books also participates in other bookstore-related affiliate programs. This means if you click on a link and purchase an item, we may receive an affiliate commission. We are disclosing this in accordance with the Federal Trade Commission's
16 CFR, Part 255
: "Guides Concerning the Use of Endorsements and Testimonials in Advertising."