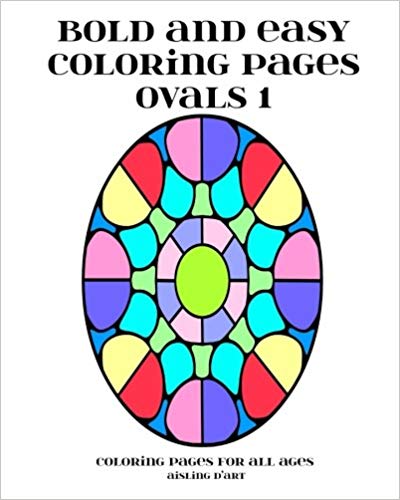 Sit back and enjoy coloring these truly easy designs. If you like coloring larger spaces with bolder, easy-to-see lines, you'll love this smaller-sized coloring book.
About the Book
Sit back, relax, and enjoy truly easy coloring pages.
If you liked "Bold and Easy Coloring Pages 1," you'll love this related book. It includes many of the same designs… but as ovals. (The ovals are bigger, but still fit nicely in this 8″ x 10″ book.)
This book contains over 45 coloring pages, printed on one side of the page.You'll enjoy 22 unique designs, each of them repeated so you have a "second chance" to try different colors or coloring techniques.
Bold lines and big spaces are ideal for low-light coloring. If you just want a simple, pleasing design to relax with… Bold and Easy coloring books are what you've been looking for.
They're also perfect for art therapy, senior citizen activity groups, and special needs classes.
At the end of this book, you'll find four additional coloring designs, to see Aisling's other design styles.
New Forest Books is a participant in the Amazon Services LLC Associates Program, an affiliate advertising program designed to provide a means for sites to earn advertising fees by advertising and linking to Amazon.com and related sites. New Forest Books also participates in other bookstore-related affiliate programs. This means if you click on a link and purchase an item, we may receive an affiliate commission. We are disclosing this in accordance with the Federal Trade Commission's
16 CFR, Part 255
: "Guides Concerning the Use of Endorsements and Testimonials in Advertising."