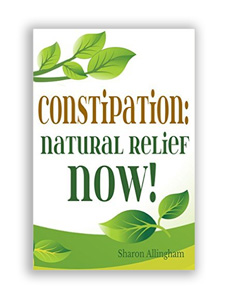 By this time tomorrow, you could GET GOING again.
About the Book
By this time tomorrow, you could get going again.
Are you tired of "not feeling right," though your doctor says there's nothing wrong?
Do cramps and intestinal twinges make you feel worried, distracted, or concerned?
Are you looking for gentle, natural, home remedies for constipation?
This guide can help you understand the best, natural ways to prevent and relieve minor constipation.
Did you know that your problem might be your low-fat or low-carb diet? Ms. Allingham explains why.
Have you heard that constipation and depression can be related? You'll learn more about that in this book, too.
Would you like to learn about natural, herbal, holistic, and Ayurvedic remedies for constipation and bowel issues? How about ways that yoga might restore your regularity? You'll get a glimpse in this book.
You'll also explore weird constipation trivia. For example, are bowel problems the curse of kings? From wicked King John (of Robin Hood fame) to King George III (yes, the English king associated with the American Revolution) to Elvis "the King" himself… constipation seems linked to the throne in more ways than one.
Mostly, this book will show you the many ways people can find constipation relief without risking addiction to laxatives, or taking more drastic measures.
Focusing on free, natural, holistic, and traditional remedies, author Sharon Allingham — a mom and retired camp director (not a doctor) — shares her very best advice to get you GOING again.
Don't wait another minute. Read this book and discover some of the best, natural ways to get fast relief from constipation.
New Forest Books is a participant in the Amazon Services LLC Associates Program, an affiliate advertising program designed to provide a means for sites to earn advertising fees by advertising and linking to Amazon.com and related sites. New Forest Books also participates in other bookstore-related affiliate programs. This means if you click on a link and purchase an item, we may receive an affiliate commission. We are disclosing this in accordance with the Federal Trade Commission's
16 CFR, Part 255
: "Guides Concerning the Use of Endorsements and Testimonials in Advertising."