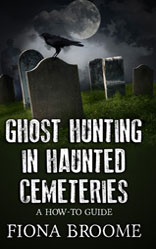 Details about the 2015 edition of "Is Your House Haunted?" by Fiona Broome. (Out of print)
About the Book
From the original Amazon book description
Within a few miles of your home, you may discover your most exciting ghost hunting adventures, ever.
Ghost hunting is a deeply personal adventure. As ghost hunters, we explore ahistory far beyond mere names and dates on headstones.
At haunted cemeteries, you can discover the real stories and rich emotions that connect past, present, and future… and get those stories directly from the ghosts themselves.
This practical guidebook takes you beyond ghost tours and cemetery vigils. You'll learn how to explore cemeteries to find things you can't explain, and have experiences you'll never forget.
With this book, you'll open the door to haunted cemeteries and uneasy graveyards that may be minutes from where you live, work, or study.
You'll learn where to look for good, haunted cemeteries. (Hint: they may be hiding in plain sight.)
Even before you enter the cemetery, you'll know what to look for and where the most eerie graves may be. If all you have is 15 minutes to find the"hot spots" in a cemetery, this book will tell you where to start.
You'll discover where to find graves of "the damned" — and ghosts you can encounter even after the cemetery is locked for the night.
Get ready for a ghost hunting experience you'll never forget. Read this book to find truly haunted cemeteries, and investigate them with chilling results.
New Forest Books is a participant in the Amazon Services LLC Associates Program, an affiliate advertising program designed to provide a means for sites to earn advertising fees by advertising and linking to Amazon.com and related sites. New Forest Books also participates in other bookstore-related affiliate programs. This means if you click on a link and purchase an item, we may receive an affiliate commission. We are disclosing this in accordance with the Federal Trade Commission's
16 CFR, Part 255
: "Guides Concerning the Use of Endorsements and Testimonials in Advertising."