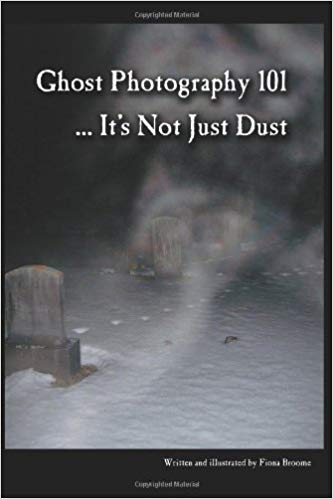 Ghost photos... are they real? This out-of-print book explained what to believe when looking at orb photos, and more.
About the Book
From the original Amazon book description
THIS EDITION IS OUT OF PRINT
Ghost photos… are they real?
* Is that orb just dust or pollen or fog?
* Is that vortex actually a piece of hair?
* Is that apparition really smoke?
Chances are, the answer is no.
Professional photographer (and paranormal researcher) Fiona Broome shows the results of over four years of experiments with a variety of cameras, testing the normal explanations for orbs, vortices, and eerie figures.
Her conclusions…? She — and many other experts — have been wrong about anomalies: As the subtitle says, it's not just dust.
Whether you're a believer or a skeptic, this book contains something to shock (or at least annoy) almost everyone who thought they understood ghost photos.
Written for beginning and intermediate ghost hunters, this 180+ page book tells you:
* How to select a camera.
* What settings to use.
* Where to take photos.
* How to decide if they're really ghosts.
However, even professionals will find some unsettling ideas and disturbing evidence in this book.
Fiona invites you to try these same tests. Prove her wrong, if you can.
You may never look at "ghost photos" the same way, again.
New Forest Books is a participant in the Amazon Services LLC Associates Program, an affiliate advertising program designed to provide a means for sites to earn advertising fees by advertising and linking to Amazon.com and related sites. New Forest Books also participates in other bookstore-related affiliate programs. This means if you click on a link and purchase an item, we may receive an affiliate commission. We are disclosing this in accordance with the Federal Trade Commission's
16 CFR, Part 255
: "Guides Concerning the Use of Endorsements and Testimonials in Advertising."