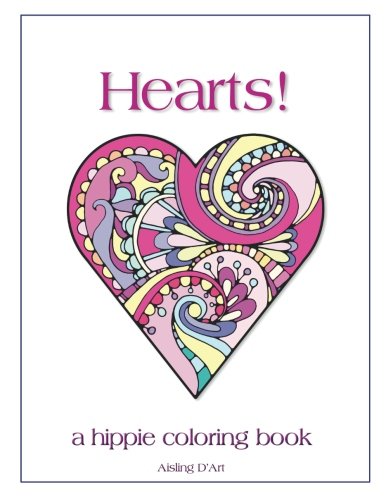 Take a break from everyday stress. Inside this book are 20 unique designs. Then, each design is flipped (mirror-style) so you can color the pair the same - or different! (40 total coloring pages.)
About the Book
Take a break from everyday stress. Find a place of inner calm with these 40 hand-drawn coloring pages, created with love by Aisling D'Art.
This is the first book in Aisling's Hearts! series.
Inside this book are 20 unique designs. Each design is flipped (mirror-style) so you can color the pair the same — or different! — and display them together.
So, you have over 40 total coloring pages.

No two are identical, and you won't see them in any other coloring books.
Each design was drawn — by hand, on paper — for this book.
Every coloring page is printed on just one side of the page.(The back of the page is blank, so ink and impressions are less likely to affect the next coloring page.)
Some of these designs are simple. They're wavy and free-flowing for a sense of freedom and ease.
Other pages are detailed, featuring large and small embellished designs. They'll give you maximum relief from everyday anxieties.
If you like the artwork of Peter Max, and the style of the Beatles' movie, "Yellow Submarine," you'll like this book. The lines are dark (visible in most low-light conditions), but blend into one another in a go-with-the-flow style.
Escape to a simpler, happier time with these coloring pages by an artist who's still a hippie, and still creating coloring books with a Woodstock vibe.
Peace, love, and coloring… find your bliss here!
New Forest Books is a participant in the Amazon Services LLC Associates Program, an affiliate advertising program designed to provide a means for sites to earn advertising fees by advertising and linking to Amazon.com and related sites. New Forest Books also participates in other bookstore-related affiliate programs. This means if you click on a link and purchase an item, we may receive an affiliate commission. We are disclosing this in accordance with the Federal Trade Commission's
16 CFR, Part 255
: "Guides Concerning the Use of Endorsements and Testimonials in Advertising."