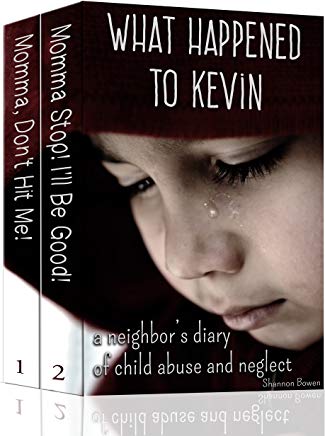 This is a true story of child abuse and neglect. It's not a novel. It's an actual diary, kept day-by-day.
About the Book
This is a true story of child abuse and neglect.
It's not a novel.
It's an actual diary, kept day-by-day, documenting what neighbors witnessed, and a mother who was out of control.
What would you do if you heard child abuse in the apartment next door, night after night?
What if the police and state agencies couldn't protect a three-year-old from his sick and twisted mother, and the father who claimed he slept through it all?
This real-life diary tells the true story of Kevin. It's one of the worst true child abuse stories, told by Kevin's next-door neighbor.
In this book, you'll read what happened, day by day, as the legal system failed this little boy.
Don't expect a "happily ever after" novel. In this book, you'll read an actual diary as it was written during more than a year of child neglect and abuse.
As the tragedy unfolded, it took its toll on everyone involved… including those who knew what was going on and couldn't stop it. It's a harsh plea for increased child abuse awareness.
"What Happened to Kevin" contains the full text of two true child abuse stories — "Momma, Don't Hit Me!" and "Momma, Stop! I'll Be Good!" — previously published separately.
This book tells what happened to a little boy named Kevin, between November 2011 and May 2013.
(Previously published as "Kevin's Story.")
New Forest Books is a participant in the Amazon Services LLC Associates Program, an affiliate advertising program designed to provide a means for sites to earn advertising fees by advertising and linking to Amazon.com and related sites. New Forest Books also participates in other bookstore-related affiliate programs. This means if you click on a link and purchase an item, we may receive an affiliate commission. We are disclosing this in accordance with the Federal Trade Commission's
16 CFR, Part 255
: "Guides Concerning the Use of Endorsements and Testimonials in Advertising."