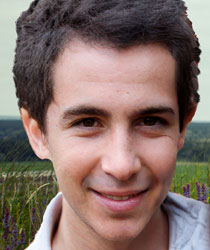 Jake Camden writes stories of horror and suspense. His first book is Descent. It's the prologue to his new series, The Amityville Diaries.
His second book, The Haunting of Obedience, was co-written with Abigail Clark. It's a campy ghost story for fans of 1960s' horror movies.
Jake began writing from his dorm room in Vermont, where he majored in Environmental Science. He's still in the Green Mountain State, planning his next book.
In his spare time, he enjoys lacrosse – and looks forward to playing it again, soon – and he admits that (just maybe) he might spend too many late-night hours playing Fortnite.
You can find Jake's books at Amazon's online bookstores.