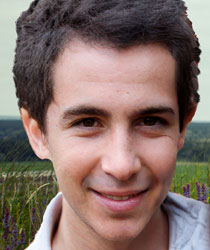 Jake Camden joined our authors when he was a student, thanks to his parents' friendship with another New Forest Books author, Fiona Broome.
His first book was Descent. It's the prologue to planned series, The Amityville Diaries.
Jake's second book was The Haunting of Obedience, co-written with Abigail Clark. It's a campy ghost story for fans of 1960s' horror movies.
Jake began writing from his dorm room in Vermont, where he majored in Environmental Science. He's still in the Green Mountain State, recently engaged, and planning his next book.
In his spare time, he enjoys lacrosse, volunteering at a local animal shelter, and in winter, cross-country skiing.
You can find Jake's books at Amazon's online bookstores.