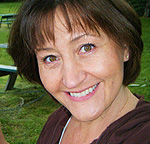 Lesley Marden is a regular everyday wife and mother who recognized at an early age that she was aware of things that other people couldn't see.
After being laughed at and told that she was lying about her encounters, Lesley decided to keep her experiences to herself and even tried to stifle them all together. It wasn't until she was in her twenties that she decided it was okay to be different, and allowed herself to start experiencing what came naturally once again.
Lesley is the author of the book Medium, Rare: A First Hand Account of Growing Up Experiencing the Paranormal. She is also a certified Level III Reiki Master Teacher and has worked as a medium on public and private investigations.
And, she creates spiritually energizing and uplifting products — candles and more — at Positively Brilliant.
Although she has done psychic readings in the past, her focus is now on growing spiritually. Recently she has been helping others to realize that we are all supported by the spirit world every day and that it is okay to just be who you are.
Lesley lives with her family in the beautiful Lakes Region of New Hampshire. She loves photographing landscapes, but has captured a few intriguing paranormal images as well.