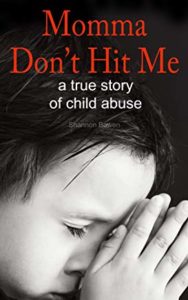 With the emerging New Hampshire story about Harmony Montgomery – missing for two years – Momma, Don't Hit Me! is more relevant than ever.
As early as 2011 – over 10 years ago – Shannon Bowen tried to get help for a neighboring family that was out of control. Kevin, a toddler, was abused repeatedly, day after day. Neighbors complained. Shannon called the police repeatedly, and tried to get help from New Hampshire's offices dedicated to child and family services.
It's not that the police and state offices didn't want to help. They did, but resources and state laws prevented them from the kind of investigation that might have helped Kevin.
Read Momma, Don't Hit Me!, free with Kindle Unlimited.  
And then ask your local officials and legislators to be sure children in your area are protected from abuse and neglect. Children like Kevin and Harmony deserve better.